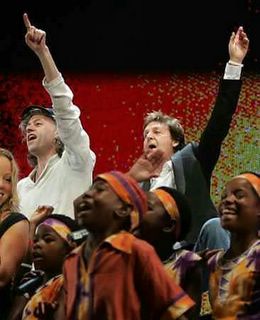 Paul McCartney, right, stated today that he
will do his part to end poverty by giving all
the little African children on stage with him
crisp, new $20 bills. And Bob Geldof too.
Isn't it good to know that by the end of the week, the leaders of the Group of Eight industrialized nations meeting in Scotland will have pledged a cool $1 million to each resident of Africa, starting by emptying their own personal bank accounts? This will happen after they smoke some ganga and declare that if Pink Floyd can get back together, well, anything is possible. Then Junichiro Koizumi will hold his lighter in the air while Gerhard Schroder and Silvio Berlusconi join arms and sway, ever so gently. Personally, I can't wait.