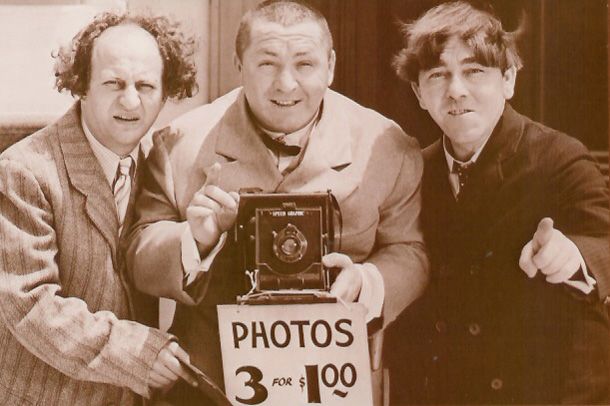 SAN FRANCISCO (CAP) - Twitter was abuzz this week with incredulous tweets from teenagers throughout the U.S. who expressed amazement at discovering that the Three Stooges were apparently real people.
Nobody told me the stooges were real ... ? How am I just finding this out?!
posted @lizamagong after seeing the new film version of
The Three Stooges
directed by the Farrelly brothers.
And @BabyDee22 sounds similarly surprised, tweeting:
Guys, the Stooges were real dudes in like the 20s or something! #mindblown.
After some back-and-forth, general consensus among the teens seemed to be that, while they had at first thought the Stooges were newly invented movie characters, it turns out they were actual people with a superhuman capacity to withstand punishment delivered via eye pokes, nose pulls and blows from sledgehammers.
I guess they made all these B&W documenteries about them? I asked my grampa & he said they wore shorts
, tweeted LuvCarly67, apparently referring to the short subjects made by Moe Howard, Larry Fine and Curly Howard during the 1930s and 1940s. And @sammyLoveB tweeted,
They had to keep replacing Stooges because they kept killing each other w/ hammers n sh-t. #gangsta.
Oddly enough, the tweets drew the attention of popular Twitter contributor and film critic Roger Ebert (
@ebertchicago
), who insisted that contrary to what the teenagers believed, the Stooges were not in fact real but actually fictional characters played by actors.
The Stooges were about as real as Bugs Bunny and Daffy Duck
, tweeted Ebert.
Also, here's my losing entry in the 331st New Yorker Cartoon Caption Contest
, he added.
But apparently Ebert's tweets just confused many of the teens further. For instance, @BoonAss899 replied,
WTF is a Bugs Bunny? AYSOS? lol
. And very few other teens follow Ebert's tweets, opting instead to follow Twitterers like
@ladygaga
.
Monsters, just found out the 3 Stooges were real - WTF?
@ladygaga tweeted yesterday afternoon.
Even Sarah Killen, the woman whose
Twitter feed was made into a television show
after Conan O'Brien chose at random to follow her, weighed in, saying that she didn't know if the Three Stooges were real or not, but that she still thought that peanut butter was yummy.
I still can't believe I followed this girl
, tweeted
@ConanOBrien
later that day.
[
Read the rest at CAP News
.]